New Features
These data stewardship features are operational across all integrations, including:
New Task - Street Name Change: Lee Road
TrueGivers released a new Task - Street Name Change: Lee Road. This task was created due to street name changes made by the city of Smiths Station, Alabama.  Most Lee Road addresses within Smiths Station are no longer considered valid addresses by USPS and will be updated to bad or non-mailable.
Read more here: https://truegivers.com/street-name-change-lee-road-in-smiths-station-alabama/
To create the task, TrueGivers reviews the input_address_line_1 field and the input_address_postal_code field found on download. When the data in the input_address_line_1 field includes 'Lee Road' or 'Lee Rd', and the input_address_postal_code field includes '36877', then TrueGivers will create this task.
TrueGivers processes all address records through CASS/DPV. These services hygiene and standardize address data to comply with USPS standards.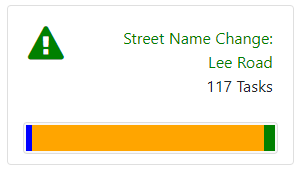 While the Lee Road addresses will still receive mail for the next two years; you should update these street names to avoid any mailing issues.
The task created will indicate the address we have on download and the new street name assigned. Review the street number, street name, city/state, and zip code. Use the free tools USPS ZipCode Lookup or  SmartyStreets - to help you pinpoint the new address street name.
If needed, confirm with the donor their address. Then, update the address within your CRM and remove any 'Do Not Contact' or Bad flags on the account, if present. Complete the task once you have made these data decisions.
Learn more about this task here: https://truegivers.com/the-street-name-change-lee-road-task/
'Lee Road' Street Name Change Helpful Hints
Because USPS attempts to standardize and validate the address, the updated address within your CRM may not look right. Our team has put together a helpful hints guide to navigate what you are looking at.
Learn more: https://truegivers.com/lee-road-street-name-change-helpful-hints/
Not seeing this task?
You may need to update it to pending in the tasks settings. Setting it to pending will only create these tasks within TrueGivers. It will not create the tasks within your CRM. Once you select Pending, go back to the tasks page and click refresh. Read more about tasks here: https://truegivers.com/getting-started-with-stewardship-tasks/